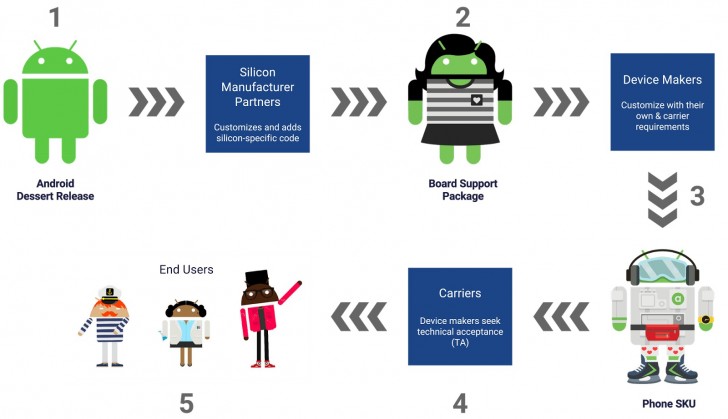 However, what it does mean for the end user is faster software updates, as the idea behind Project Treble is to make it less time-consuming and less costly for device manufacturers to update their smartphones and tablets to a new version of Android when the software is finally released by Google.
If you're not familiar with how Android updates work, here's a summary. Whenever a new version of Android comes out, even just a small one, it takes LG, Samsung, Sony, HTC, and everyone else months to push out an update to their latest phones. "Project Treble" is a plan to modularize the Android OS, separating the OS framework code from "vendor specific" hardware code. Starting with new devices that ship with Android O, Google will introduce a new "vendor interface" between Android and the unique device implementations that will provide access to the hardware-specific parts of Android.
This changes that, or so Google says, with Treble being its "biggest change yet to low-level system architecture". Google says that it would be active for the "devices launched with Android O and beyond".
As you can see there, Android updates will essentially skip a major step that required work from the silicon folks, Google, and likely carriers and device makers. It eliminates one step from the drill that would help the OEMs to deliver timely updates. Android 7.1 (which came out last year) now sits at 0.5% marketshare, and brand new phones are still being released with 6.0 Marshmallow.
The new "Vendor Interface" separates the Android framework from the hardware.
Device makers work with carriers to test and certify the new release.
Google will publish full Project Treble documentation with the launch of O later this summer. The inspiration behind Project Treble is Compatibility Test Suite (CTS) that will enable developers to write apps that would be compatible with the billion of Android devices. But we expect to hear a lot more about it at Google I/O next week.